Since 2001, Lifespan Fitness has been making top-rated exercise equipment that you can use at home, including treadmills, stationary bikes and, of course, indoor rowers like the Lifespan RW1000. They also produce commercial grade equipment and have even moved into healthy workstation designs like bike desks and treadmills desks.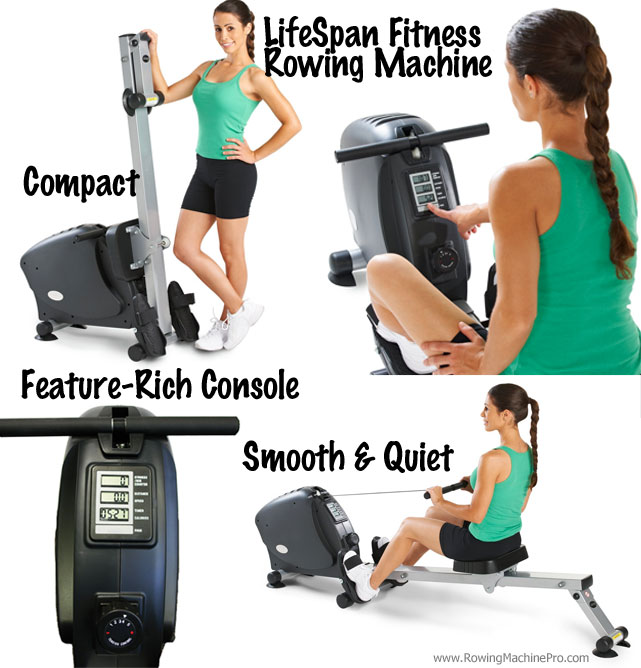 LifeSpan Fitness Rowing Machine
As you might imagine, their company goal is to help people "live healthy" – not just in the gym, but at home and at work too. They have won lots of awards and gained plenty of notoriety because of it. They feature a long list on this page.
But well-made equipment is only part of how they've received so much attention. The other half of the equation is due to the fact that their products are easy-to-use, convenient and affordable (without giving up quality). Let's be real here. If home exercise gear is a hassle to use, it simply won't GET used.
The Lifespan RW1000 Runs Quietly

I think one of the most important features of indoor rowing machines is a low noise output level. A quiet rower will let you listen to workout music or watch your favorite movies without having to struggle to hear them (not to mention disturb other people in your house).
Less noise means more enjoyable workouts, which translates into more rowing getting done. Let's face it, the easier we make it on ourselves to exercise, the more we will look forward to it (especially if we get to watch a movie!)
The Lifespan RW1000 uses a quiet flywheel design while providing a nice consistent resistance while rowing.
You Can Easily Fold and Move the Rower
Another key factor of working out at home is to be able to exercise without your gear taking over the house. Personally, I only buy workout equipment that I can stick in a closet or under a bed when I'm not using it.

I do this because then I will use the equipment more often. Not to mention, I can switch up the "view" from where I workout. Plus, I don't have to worry about people yelling at me about tripping over it.
The Lifespan rowing machine folds up quick and rolls away. (It has a locking pin that keeps the device folded securely). You don't have to use much energy to roll it, and you have to be strong either. I'm sure the last thing you want to do is haul something heavy across the house to put it away, right?
Folded Dimensions: 34″ long x 19″ wide x 64″ high
Adjust Your Rowing Machine & Track Workouts for Best Results

Need more resistance? Just turn the knob. There are 5 different levels to choose from. This is a nice feature to any workout because you can change the intensity depending on the workout you are doing or within the workout. It's also great for machines that have multiple users.
Track and compare your progress by distance, calories burned, time rowing, strokes per minute and more. Whether you want to improve your speed, your pulling strength, time-on-machine, etc.., there are lots of ways you can switch up your workouts to keep them interesting and motivating.
This Rowing Machine is Eco-Friendly!

Besides the console using a single AA battery, the machine requires no other power source. How many other home exercise machines can say that?
Not only are you saving energy, but you can take your rower where "no other treadmill or elliptical machine has gone before!" – to places without power outlets.
Lifespan Fitness RW1000 Specs:
Maximum user capacity: 300 lbs
Machine Weight: Approximately 75 lbs
Model #: RW1000
Unfolded Dimensions: 90″ long x 18.5″ wide x 23″ high
Lifespan VS Concept2 Rower

Many people look at getting the Lifespan Fitness RW1000 rowing machine instead of the Concept2 Rower because it costs half the price (that's a significant savings). Here's that the Lifespan RW1000 doesn't have:
No pre-programmed workouts, less comprehensive digital display
Max user capacity is 300 lbs (concept2 is 500 lbs)
The Lifespan is 6″ longer and wider, providing more stability for larger/taller users
If you are a hard-core rower looking for a tougher piece of equipment, you may want to consider the Concept2
One Last Thing About the Lifespan Fitness RW1000…
And who am I kidding. Comfort can be a deciding factor too. Yes, you can buy a gel seat for rowing machines, but the RW1000 already comes with an injected foam seat. It also has padded hand grips (no – not all brands have this).