Compare indoor rowers before you buy. This chart shows the top-rated home rowing machines that are designed for everyday use, require minimal maintenance, operate quietly and are easy to move and store. See prices, ratings, dimensions, resistance type, included workouts, weight capacity, special features and more.
Indoor Rowers

Rating
1-5
Weight
Capacity
Assembled
Dimensions
Product Weight
Resistance Type
Folds for
Storage
Price
(approx)
Pre-Set
Workouts
Special Features

Concept2
Model D



5.0
500 lbs
96″L x 24″W
69 lbs
Flywheel
Separates into 2 Parts, Rolls
$1100-$1200
Yes, 5
Commercial-grade durability, has Bluetooth connectivity for heart rate monitors, smart phone, etc.. See full review of the Concept2 Model D vs Model E

Ergatta Rower


Limited Time:
Get $250 Off

4.8
500 lbs
86″L x 23″W
105 lbs
Water
Stores Upright
$2000+
Yes
"Gamify" your exercise with interactive monitor, competitive workouts, training tips & motivating video workouts. Fun & easy to use with Wifi & Bluetooth connectivity. See Ergatta Rower Review

Teeter
Elliptical Rower



4.8
300 lbs
63″L x 38″W
180 lbs
Magnetic Bi-Directional Resistance
Fold & Rolls, but Doesn't Fold Flat
$1200
Yes, Free on-demand workouts
Work more muscles with unique bi-directional rowing system. Plus, FREE Teeter App provides lots of trainer-led workouts. BONUS Polar Heart Rate Monitor also included FREE! Find Out More

NordicTrack RW900 Rower



4.8
250 lbs
86.5″L x 22″W
130 lbs
Air + Magnetic
Folds & Rolls
$1599
Yes, on Video
Similar to the Hydrow, but costs less. Also includes HD Smart Touchscreen, in-depth stats tracking and a full year of iFit Personal Training with global workouts on the water See More on the NordicTrack RW900

Hydrow Interactive Rower



4.9
375 lbs
86″L x 24″W
197 lbs
Electro-magnetic
No, but Stands
$3099-$3199
Yes, by Video
The next generation in rowers! Package includes 22″ HD Touch Screen with visually immersive workout sessions all over the world. Subscription required to access athletic trainers. Complete Hydrow Review

Echelon Smart Rower



4.5
300 lbs
85″L x 21″W
120 lbs
Magnetic
Folds & Rolls
$999 $679
30 Days Free of On-Demand Classes
Convenient tablet holder and 32 levels of resistance that you can adjust without stopping your workout. Plus, cheaper than interactive rowers like Hydrow. Complete Echelon Review

Stamina
Conversion II

4.4
250 lbs
46″L x 26″W
102 lbs
SMR Silent Magnetic Resistance
Folds & Rolls
$899-$1200
No
Bike and rower in 1 machine, adjustable ergonomic paddled seat, 8 resistance levels Read Review of Recumbent Rower

Velocity

4.5
275 lbs
80″L x 20″W
91 lbs
DMC Drum Magnetic Control
Folds & Rolls
$799 $639
Yes, 6
8 levels of resistance, includes heart rate monitor chest strap. See Full Review of Velocity Indoor Rower

First Degree Water Rower

3.5
300 lbs
77.8″L x 20.9″W
58 lbs
Water
Upright storage
$1,098
No
Upgraded design provides smooth and natural stroke feel. Plus, you can easily adjust the resistance, speed and range of motion for your workout. These high-end fluid rowers last a long time. Find out more

Stamina ATS Rower

3.9
250 lbs
77″L x 18″W
52 lbs
Air
Folds & Stores Upright
$369-$399
No
This rower has an ultra low price, a lightweight (52 lbs) for easy portability and a simplistic design. Plus, it includes a comfortable padded seat. See the Stamina ATS Review Here
Tips on Buying Indoor Rowing Machines:

Fitness pros who row frequently really appreciate the quality of the Concept2 rowers. However, if you just want a piece of home exercise equipment that you can use a few times a week, you may want to save yourself a few hundred bucks. You can still get good equipment that you'll like for about $500.
On the other hand, if you get bored easily and prefer more variety in your workouts, a recumbent bike rower or an interactive rowing machine may fit your needs better than traditional indoor rowing machines.
In any case, keep in mind that your fitness results will depend on your consistency rather than the machine itself. Virtually all rowers can give you a full-body workout in less time.
Want a Cheaper Indoor Rower?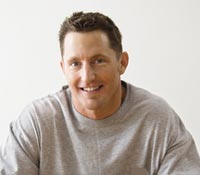 Yes, you can find cheap indoor rowers designed for occasional and less-rigorous use. However, be prepared for louder noise, seats and handlebars that don't move smoothly, parts that break, squeak and more.
Don't get me wrong, I like budget-friendly exercise equipment. (As long as the products do what you want them to do). By the way, the Schwinn Crewmaster Rower offers a good combination of low price and high quality with good ratings, as does the Obsidian Surge Water Rower.
For indoor rowing machines that you plan to use on a regular basis for a long period of time, I recommend investing in quality equipment. This will actually help you stay motivated to do your workouts and therefore achieve your goals. Good luck and let me know if you have any questions.
– Chris